About Defence Degree College
Defence Degree College was established in 2009. Previously the Intermediate Classes were conducted at the higher secondary department of Defence Public School for Boys. The College was shifted to its new purpose-built campus in September, 2009. The College, with its splendid infrastructure surrounded with vast grounds, provides an inspiring atmosphere. It has a state-of-the-art architecture providing conducive atmosphere for teaching and learning.
The College offers FA, FSc, ICom, General Science and ICS. It also offers multiple combinations in various disciplines. The College is affiliated / registered with the Board of Intermediate and Secondary Education (BISE) Lahore and FBISE for Intermediate classes.
Our mission at Defence Degree College is to offer affordable education ensuring quality, credibility and academic excellence. Defence Degree College has a history of outstanding achievements in curricular, co-curricular and sports activities. Our students participate in many curricular, co-curricular and sports activities at Board, District and National level every year. They bring many laurels to the College along with achieving very good grades in exams.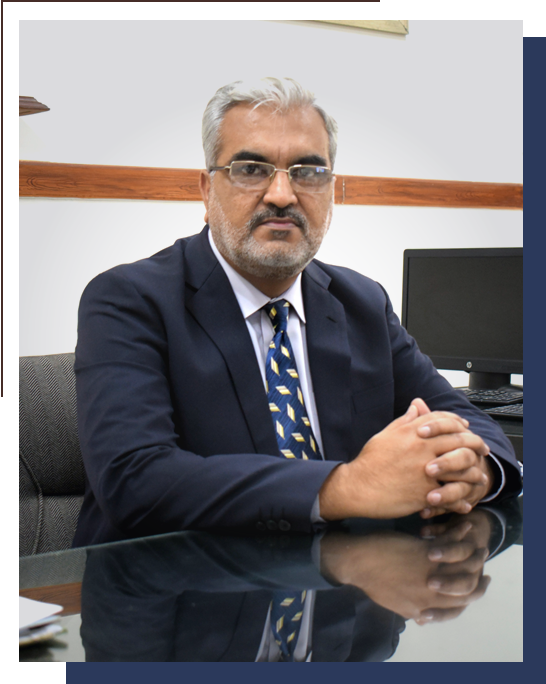 Mr. Abdul Qadeer Awan
I am delighted to welcome you to Defence Degree College, Lahore's premier educational institution, located in the heart of city that provides a very beautiful, serene and safe environment. In a world that rewards perseverance, resilience, initiative, problem-solving and cooperation, DDCB takes the challenge to build well rounded, upright and refined personalities with ability to contribute positively to our society.
The faculty of college consists of highly qualified, dedicated, experienced and professional people. The education system of college is based on modern teaching methodologies and student-oriented lesson plans. The purpose-built campus is well-equipped with spacious classrooms, science labs, playground, state of the art library, wide corridors and dedicated administrative staff.
In order to accomplish our vision and mission, we are all set to take as much effort as possible for the betterment of academic scenario at DDCB. At DDCB education means much more than the pursuit of top grades. Character building, instilling high moral values, development of wholesome personality and awareness of societal obligations are central to what we offer here. Our club activities help students develop sense of unity and teamwork that make them truly life-ready. We are optimistic that our students would keep on shining in various fields of life after passing out from DDC…and "They will!"
With hopes of a better tomorrow, I pray that the following years would be wonderful years of teaching and learning for Defence Degree College.
The standard set by the higher office for student density is a maximum of 40 students per section. Once this limit is reached, admission into respective subjects or sections would cease. Candidates are, therefore, advised to fulfill requirements of admission well in time to forestall the chances of losing admission to the College.
Submission of Applications:
A candidate will be considered eligible for admission as prospective student only if / when he has submitted the Admission Form to the Establishment Office and paid the dues. The purchase of prospectus in itself does not merit consideration for admission.
Period of Admission to Class XI (1st Year)
Admission to Class XI begins after the declaration of Matriculation results and according to the notification of FBISE and Board of Intermediate and Secondary Education, Lahore.
At the time of admission, a certificate is obtained from the parent / guardian affirming the correctness of particulars entered in the Admission Form. No claim to make a change in the form will be entertained at a later stage. The information once conveyed to Federal / Lahore Boards shall be valid for all purposes and no changes shall be considered at the Board level.
Provisional admissions on the basis of GCE / O' Level are made generally in August / September every year. In case the exams are held late, admission may be sought immediately after appearing in these examinations but not later than one month thereafter. Such admissions are granted provisionally on the basis of a written test and interview. However, the admission for Board Examination of such candidates shall be sent to the Board only if they pass their GCE / O' Level Examination and submit their result cards and equivalence certificate at the time of registration with the Federal Board / Lahore Board or according to the Board's notification.
Admission on Sports Basis
Candidates who have excelled in selective sporting activities will be given admission on producing authentic certificate of participation.
Students / parents are advised to exercise due deliberation in the choice of subjects. A change of subject is not encouraged during the course of studies. Any change of subject(s) can only be made within one week of the commencement of the academic session. This too shall be done on the discretion of the Principal. Only in rare cases, a very weak performance in Assessment Exams will be deliberated upon by the Executive Council with the view to changing subjects. No change of subjects shall be permitted thereafter.
Parents will have to submit an undertaking regarding their son's passing of terminal and send up exams to be eligible to sit in the Annual Board Examination.
The desirous applicants for admission will collect prospectus from the Admission Office.
Application for admission must be submitted on the prescribed Admission Form attached to the prospectus.
The candidate will submit duly filled Admission Form along with the documents mentioned at the end of the Admission Form.
The Admission Committee will interview the candidate and scrutinize his documents.
In case the candidate is declared fit for admission, he will collect the fee voucher (challan) from Accounts Office of the College.
The candidate will submit his dues within 3 days of the issuance of fee challan at the prescribed banks and provide a copy of receipt of payment to the College Accounts Office.
The Merit / Admission List of successful candidates will be displayed on the College Notice Board at the end of admission process.
The candidate must present himself and start attending regular classes within the first week of the commencement of academic session. Otherwise, his name will be struck off the College rolls.
Note
Entries in the Application Form must be filled with correct information. All entries will be verified. Any false information detected at any later stage will result in withdrawal of the candidate.

Last date for the submission of application is publicized / mentioned on the Notice Boards. Submission of applications must be done before the announced deadline. Candidates are urged to keep in touch with the College establishment.

Medical Fitness Certificate may be obtained from DHA Medical Centre or a recognized medical practitioner.
Documents Required for Admission to 1st Year Class
Applicants need to attach the attested photocopies of the following documents with their admission form:
Eligibility for Board Examination
College Pre-requisites
Faculty
| | | | |
| --- | --- | --- | --- |
| Name | Designation | Qualification | |
| Mr. Abdul Qadeer Awan | Principal | MSc (Mathematics), PGD (Computer Science), PGCC (Professional Studies) | |
| Hafiz Abdul ur Rehman | Lecturer | Phd , MPhil Islamiat, MBA |   |
| Muhammad Zaheer Iqbal | Lecturer | MPhil (Mathematics), MSc (Mathematics), BEd |   |
| Muhammad Faisal Javed | Lecturer | MPhil, MBE(Finance & Accounts), MCom, MEd |   |
| Tasawar Abbas | Lecturer | MPhil, MA Economics |   |
| Muhammad Rashid | Lecturer | MPhil Urdu, MA Political Science, MEd |   |
| Muhammad Tanvir Mazhar | Lecturer | MPhil Urdu, MA Urdu, BEd |   |
| Zaheer Ahmed | Lecturer | MSc (Physics) |   |
| Muhammad Shahzad Baber | Lecturer | MSc (Statistics), BEd |   |
| Muhammad Abbas | Lecturer | MSc (Chemistry), BEd |   |
| Muhammad Naveed | Lecturer | MSc (Chemistry) |   |
| Majid Hussain | Lecturer | MSc (Computer Science), BEd |   |
| Hafiz Muhammad Mubin Athar | Lecturer | MS Biomedical Science |   |
| Muhammad Riaz | Lecturer | MA Health & Physical Education |   |
| Abdul Latif Shahid | Lecturer | MA Islamic Studies |   |
| Muhammad Zafar Rana | Lecturer | MA (English) |   |
| Muhammad Musharrraf Islam Saqib | Lecturer | MA (English) | |
| Arslan Shakeel | Lecturer | BS (Hons) Physics | |
| Maqsood Ahmad | Librarian | BA Library Science | |
| Ghulam Sibtain | Lab Asst | MA (Islamiat), MEd | |
In addition to academics, co-curricular activities play a pivotal role in cultivating well rounded personalities in any good educational system. A large number of multifarious clubs have been developed so that the students may channelize their energies by engaging themselves in positive pursuit of leisure while utilizing their gifted talents. Through these clubs, the students are provided maximum opportunities and guidance to nurture their interests and skills in their favourite pastime. These clubs function in a highly organized manner under professional trainers. All available manpower and resources are being invested to develop these clubs into excellent facilities in order to enhance our students' faculties.
A student is required to select ONE of the following clubs according to his interest and aptitude to improve his skill in that specific field.
Contact Us
Defence Degree College for Boys, 305-R, Phase-II DHA Lahore.