About Defence Degree College for Women
Defence Degree College for Women was established in 1995. Initially, it was housed at the location of Senior School for Girls, Lahore. Later, in March 2000, it was shifted to the new purpose-built campus.
DDCW is one of the most reputable and creditable college with modern state-of-the-art campus, having spacious classrooms, fully equipped labs, well-stocked library and a vast playground to meet the growing demands of an ever-increasing student body. Intellectual curiosity and innovative abilities of the students are nurtured through interactive classroom sessions and technology-integrated lessons. Different societies are operating on campus to facilitate students in co-curricular activities and sports of their choice.
The college offers FA, FSc, ICom, General Science, ICS and four year BBA and BS programs. It offers multiple combinations in various disciplines. The college is affiliated with the Board of Intermediate and Secondary Education (BISE) Lahore and Federal Board (FBISE) for Intermediate classes. BBA and BS programs have affiliation with University of Education Lahore and University of the Punjab.
It is my profound privilege to pen my views as the Principal of Defence Degree College for Women. This institute is providing quality education with emphasis on character building and holistic grooming of future citizens of Pakistan. The main focus of the institution is to empower the students with knowledge, wisdom, and methodological experience to compete in this modern technological world. DDCW is a symbol of progressive and quality education. We build the citizens of tomorrow who are emotionally and intellectually strong.
Now-a-days, education cannot be confined to four walls of a classroom. Today's students need a broader canvas to paint their lives according to their choice and temperament. As educationists our responsibility is to guide and provide all possible opportunities. I believe that every child is born with unique qualities and we just need to explore and guide them towards the right path. It is believed that practical wisdom is always achieved through institutional experience. Our institution is providing the students a foundation to equip them with skills and capabilities to help them compete in every walk of life. Different Clubs and societies are working under the supervision of trained staff and students are given option to join them according to their choice. Education in our college is an enjoyable process and not an imposed, dull cramming of syllabus. We are providing an ideal and unique atmosphere for both students and teachers so that they can perform well in their respective fields.
I conclude with the advice of Quaid-i-Azam which he gave to a group of students,
Pakistan is proud of her youth, particularly the students, who are nation builders of tomorrow. You must devote yourself whole-heartedly to your studies, for that is your first obligation to yourself, your parents and to the State. You must learn to obey for only then you can learn to command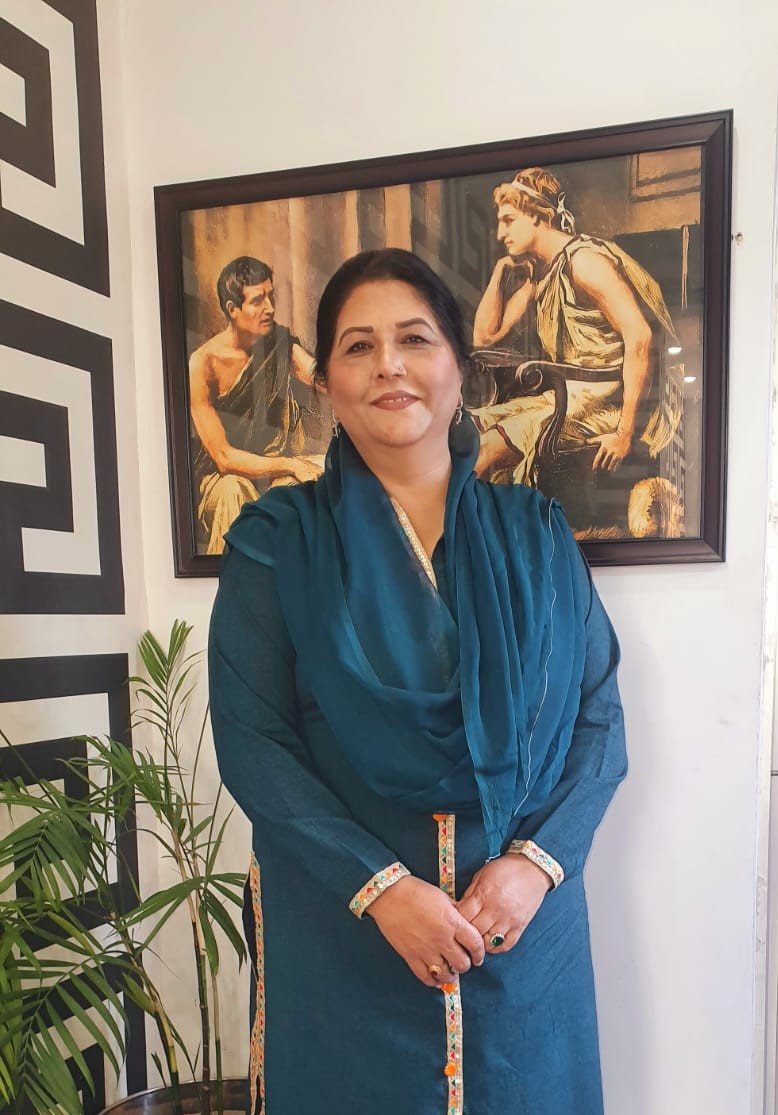 Ms. Aliya Ayub Chattha
Admission Policy
Intermediate Classes
Science Group
Students must have passed Matriculation with Science and meet the merit requirement set out by the College Authorities.
Arts Group
Admission to Mathematics, Fine Arts and English Literature is decided on merit established by the authorities on the basis of Matric / O' Level marks, Aptitude Test and marks obtained in the Interview.
BS (4 Years Degree Programme)
Admission Requirements
Eligibility:
Students with intermediate certificate i.e. FSc Pre-Medical (Minimum 50% marks in aggregate) are eligible to apply.
Eligibility:
Intermediate or Equivalent with Mathematics or Computer Science Course from recognized institution with minimum 50% marks in aggregate.
Eligibility:
Intermediate or Equivalent from recognized institution with minimum 50% marks in aggregate.
Eligibility:
Intermediate or Equivalent from recognized institution with minimum 50% marks in aggregate.
Eligibility:
Intermediate or Equivalent from recognized institute with minimum 45% marks in aggregate.
Compulsory Subjects for All Groups
English
Urdu (Pakistan Culture – For foreign students only)
Tarjama tul Quran
Islamiyat (1st Year Only) & Pakistan Studies (2nd Year Only)
Pre-Medical
Physics, Chemistry, Biology
Pre-Engineering
Physics, Chemistry, Mathematics
Computer Science  (ICS)
1) Mathematics, Physics, Computer Science

2) Mathematics, Statistics, Computer Science

Commerce Group (1st Year)
Principles of Economics, Principles of Accounting -1,

Principles of Commerce, Business Mathematics

Commerce Group (2nd Year)
Commercial Geography, Principles of Accounting-2, Business Statistics, Banking
Humanities Group
Group 1
Group 2
Group 3
Statistics

Home Economics

Sociology

Urdu Advance

Islamiyat (Elective)

History of Pakistan

Economics

Physical Education

Civics

Psychology

Computer Science

Mathematics

Fine Arts

Education

English Literature
Documents Required for Admission to 1st Year Class
Applicants need to attach the attested photocopies of the following documents with the admission form
Note
Students are instructed to fill in the admission form in their own handwriting. Student's Name, Father's Name, Date of Birth and all other particulars must be written according to the Matriculation Certificate. In case of non-compliance, a fine of Rs. 500/- per mistake is charged by the Board of Intermediate and Secondary Education (BISE) Lahore. These charges may change periodically as per BISE Regulations. Incomplete documents / forms will not be accepted.
Documents Required for Admission to BS (4 Years)
Applicants need to attach the attested photocopies of the following documents with their admission form:
Faculty
| | | |
| --- | --- | --- |
| Name | Designation | Qualification |
| Ms Aliya Ayub Chattha | Principal | MA English |
| Ms Ammna Akhtar | HOD, Lecturer | MSc Physics, BEd, Special Diploma in English Language |
| Ms Raheela Zafar | HOD, Lecturer | MPhil Environmental Sciences, MSc Botany, BEd  |
| Ms Sajida Laeeq | HOD, Lecturer | MA English, BEd |
| Ms Asma Maqbool | HOD, Lecturer | MSc Chemistry |
| Ms Naheed Rao | HOD, Lecturer | MSc Mathematics, BEd |
| Ms Shabana Alam | HOD, Lecturer | MA Urdu, BEd |
| Ms Faiza Kazi | HOD, Lecturer | MSc Home Economics Clothing & Textiles |
| Ms Faiza Rahim Dar | HOD, Lecturer | MCom |
| Ms Saima Usman | HOD, Lecturer | MA Islamiyat, BEd |
| Ms Imrana Naz | Lecturer | MPhil Zoology, BEd, MEd |
| Ms Ayesha Barirah Ali | Lecturer | MPhil Pakistan Studies |
| Ms Saira Khurram | Lecturer | MPhil in History of Arts, MA Fine Arts |
| Ms Sarita Khan | Lecturer | MPhil Urdu, BEd |
| Ms Ghazala Yasmin | Lecturer | MPhil Cell Biology, MSc Zoology |
| Ms Madiha Khan | Lecturer | MPhil Psychology |
| Ms Mehvish Sanaullah | Lecturer | MPhil Chemistry, BEd |
| Ms Ammara Nazir | Lecturer | MPhil Statistics, BEd |
| Ms Sadia Khan | Lecturer | MPhil CS |
| Ms Zahra Arif | Lecturer | MPhil Economics |
| Ms Bushra Nawaz | Lecturer | MPhil Political Science |
| Ms Fizzah Nasir | Lecturer | MPhil English |
| Ms Mehwish Hina | Lecturer | MPhil English, BEd  |
| Ms Mariam Fasih | Lecturer | MPhil in Commerce |
| Ms Sawera Khan | Lecturer | MPhil Applied Psychology |
| Ms Tehzeen Yousaf | Lecturer | MSc Physics, MSc Computer Science |
| Ms Sarah Ahmed | Lecturer | MSc Physics |
| Ms Sumaira Nazish | Lecturer | MSc Mathematics, BEd |
| Ms Anum Ramzan | Lecturer | MSc Computer Science |
| Ms Breerah Shabbir | Lecturer | MSc Chemistry, BEd |
| Ms Shumaila Mansoor | Lecturer | MSc Psychology |
| Ms Mehjabeen Ashraf | Lecturer | MBA Finance |
| Ms Saima Nadeem | Lecturer | MA Urdu, MA Islamiyat |
| Ms Salma Tahir | Lecturer | MA Islamic Studies |
| Ms Shagufta Tahir | Lecturer | MA Education, PGD Computer |
| Ms Umme Rubab | Lecturer | MA Fine Arts, BEd |
| Ms Amber Perveen | Lecturer | MA Urdu |
| Ms Ambreen Ather | Lecturer | MA Urdu |
| Ms Sarwat Amar | Lecturer | MA Political Science |
| Ms Shazia Arif | Lecturer | MA Physical Education |
| Ms Anjum Naz | Lecturer | MA English |
| Ms Ayesha Yusuf | Lecturer | MA Mass Communication, MA ELT |
| Ms Aneela Javed | Lecturer | MA Education |
| Ms Shahida Perveen | Cataloguer | MA Library Sciences |
In addition to academics, co-curricular activities play a pivotal role in cultivating well-rounded personalities in any good educational system. A large number of multifarious clubs have been developed so that the students may channelize their energies by engaging themselves in positive pursuit of leisure while utilizing their gifted talents. Through these clubs, the students are provided maximum opportunities and guidance to nurture their interests and skills in their favourite pastime. These clubs function in a highly organized manner under professional trainers. All available manpower and resources are being invested to develop these clubs into excellent facilities in order to enhance our students' faculties.
A student is required to select ONE of the following clubs according to her interest and aptitude to improve her skill in that specific field:
Performing Arts (English) Club
Defence Degree College For Women, 487-FF, Phase-IV DHA Lahore