DHA Cambridge Campus
DHA Cambridge Campus is situated in the heart of DHA, imparting quality education to the youth at the O' and A' Levels. In order to cultivate a system of mutual respect, understanding and support for one another, as a part of grooming, the campus is Co-ed. This enables our young scholars to appreciate their own and others' individual values as well. It has a purpose-built campus with state-of-the-art educational facilities with modern teaching aids, and well equipped labs. Highly qualified and seasoned faculty, along with personality development activities including clubs, societies and events the campus aims to provide a wholesome education and grooming package.
The new DHA Cambridge Campus had been established with two profound objectives in mind. First, to underscore the noble ideal that education is a Calling, and not Commerce. Second is to offer our students a good measure of true public schooling, which has connotations far beyond the scores, positions and grades.
Principal's Message
It is my proud privilege to welcome you to this learning community of DHA Cambridge Campus. Ideally located in the heart of Lahore, DHA Cambridge Campus offers an outstanding educational programme that is robust in its academic aims, innovative in its instructional approach and rigorous in its pursuit for excellence. Students are prepared for International (O/A' Levels) education plans. We invite you to come and experience firsthand, these unique features of our institution.
DHA Cambridge Campus has a dedicated faculty, striving hard to provide the students with the latest knowledge and skills that would help them to stand out in this fiercely competitive world. We believe growing minds have infinite capacity to understand and grasp various skills and every student is unique and learns in his/her unique style. Under the highly dedicated management of DHAES, DHA Cambridge Campus stands tall and will reach the pinnacle of glory.
I want to convey my feelings to the community and assure them that at DHA Cambridge Campus:
Voice of parents is heard, we welcome their ideas, thoughts and concerns.
Students are groomed to show respect for human values.
Young minds are taught to accept both success and failure in the right spirit.
Individuals who possess love for country, nation, society and family values, are nurtured.
I look forward to the pleasure of meeting you soon, InshaAllah.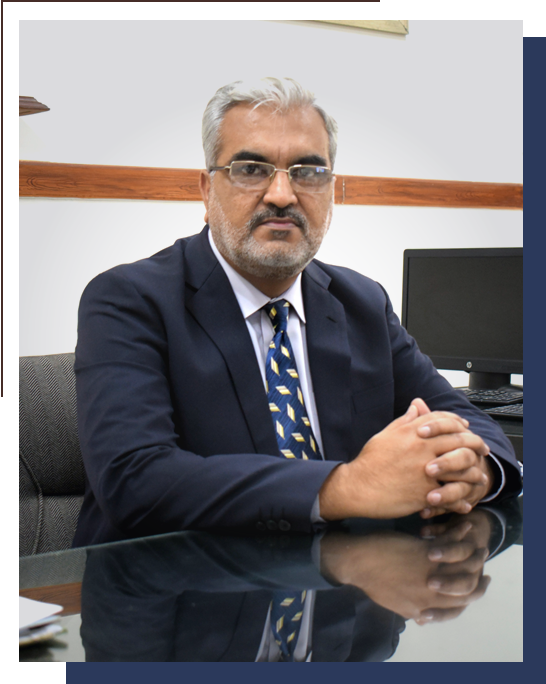 Abdul Qadeer Awan
Subjects Offered
For A' Level (Co-ed)

For O' Level (CoEd)
How to Choose Your Subjects?
Our Cambridge programme offers a wide range of subjects and combinations. We advise you to choose your subjects according to your interests, aptitudes and career plans. Some of you might already have decided what you want to study, others may not be sure. lt is important for you to be fully aware and knowledgeable with your course of study as making these decisions takes a lot of research and discussion. So take your time and ask for expert advice from the career counsellor.
You could try asking yourself the following questions:
This will give you the greatest choice when it comes to applying to universities
Model Classrooms
Textual learning is not enough now. Students need to visualise the concepts, understand the associated meanings and speed up the pace at which they can imbibe knowledge. Our spacious, bright and air-conditioned classrooms are furnished with high quality furniture, modern amenities and smart boards to create effective learning and teaching environment.
Bio/Chemistry Lab
Effective teaching and learning of science encompasses a perpetual state of show and tell. Students combine conventional classroom teaching with lab experiments and models to obtain first hand learning experience and retain knowledge for longer period of time. Well-designed Chemistry and Biology labs help students in developing competence with scientific practices such as experimental design; argumentation; formulation of scientific questions and use of chemical equipment.
Physics Lab
It is in the laboratory that Physics students learn to practise the activities of science asking questions, performing procedures, collecting data, analyzing data, answering questions, and thinking of new questions to explore.
Computer Lab
Computer lab is equipped with state-of-the-art hardware and software. This tech-rich space equitably accommodates more students, with more computing power. The computers have the necessary processing speeds. The software is in line with the latest ICT platforms to equip students with the essential future skills.
Language Lab
Language lab with the latest development software (CALL) is fully functional in the institution to guarantee a successful language learning experience. This software application enables teachers and students to interact with one another in the target language. It includes a database of courses & classes and participants, a library of multimedia lesson material & assignments, and associated student's responses & teacher's feedback.
Library
Library is an important source of knowledge for young minds that develops the essential habit of reading among the students. Our well-stocked and continuously updated library plays a great role in the life of students by serving as the storehouse of knowledge. It provides an opportunity to the students to use their skills to research and remain abreast with latest information and developments.
Common Room
The well-furnished common room with access to audio-visual facilities and educational and recreational activities provides A' Level students with a comfortable and congenial atmosphere to spend their spare time.
Sports & Physical Fitness
Outdoor sports and indoor games provide opportunities to all students to develop their concepts of fairness and of personal and social responsibility. Our goals are to encourage a healthy and active lifestyle throughout the school body, nurture sportsmanship in all aspects of competition, widen each student's sporting experience and enjoyment and create a passion for active recreation and sport.
Co-curricular & Extra Curricular Activities
Organized, well-structured youth sports and on-going physical activities can provide many benefits for students and adolescents. Positive experiences and an active lifestyle play pivotal role in a young person's life. Students are encouraged to participate in sports or other regular physical activities that can enhance their mind, body and spirit. Participation at least in one club / society is obligatory for the students according to their interest and propensity to enhance their innate skills.
Clubs
Societies
High Achievers
Success is not for those who run fast but for those who keep running and always on the move. Ambitious and goal focusing students of DHA Cambridge Campus accomplished their vision into reality by showing electric performance in 2022 exams.
Momin Jahangir
8A*
M. Hamza
8A*
Afraz Haider
6A* 2A
Ahsan Amir
6A* 2A
Ibrahim Bin Ahmad
6A* 2A
Mustafa Waseem
6A* 2A
M. Ashar
5A* 3A
M. Mukarum
4A* 4A
M. Waqar
4A* 4A
M. Abdullah
3A* 5A
Scholarships
For details, please visit the campus and discuss with the students' Advisor.
A' Level Faculty
Nadeem Sarwar Malik
Physics
Shoaib Asghar
Economics and Accounting
Omer Zaman Khattak
Chemistry
Furqan Mushtaq
Media
Ayesha Razzak
Psychology
Munir Ahmad Khan
Mathematics
Nauman Malik
Accounting
Salik Aziz Vaince
Law
Hamid Fayyaz
Biology
Yasmin Anjum
Urdu
Mujtaba Mehdi
Business Studies
O' Level Faculty
| | | |
| --- | --- | --- |
| Name | Designation | Qualification |
| Ms. Rabia Gul | Teacher | M Phil History |
| Ms. Maryam Zehra | Teacher | M Phil English Language Teaching |
| Mr. Muhammad Nadeem Sarwar | HOD Cambridge Stream | MSc Physics, MA Political Science, BEd |
| Mr. Ghulam Mustafa Gohar | Teacher | MSc Mathematics |
| Ms. Nabila Latif | Teacher | MSc Geography, MEd |
| Mr. Shoaib Asghar | Teacher | MBA Finance, MS Management  |
| Ms. Qudsia Siddique | Teacher | MSc Chemistry, BEd, MEd |
| Mr Majid Hussain | Lecturer | MSc Computer Science, BEd |
| Mr. Rashid Fazal Din | Teacher | MSc Mathematics |
| Ms. Fatima Yakta Mohsin | Teacher | BS (Hons) English Literature |
| Mr. Adnan Khan | Teacher | BS (Hons), Biochemistry, BEd |
| Ms. Nazakat Bano Vaseer | Teacher | MA Urdu, BEd, MEd |
| Ms. Nadia Anees | Teacher | MA Islamic Studies |
| Mr. Muhammad Sohaib Khan Durrani | Teacher | BCom |
305-R, Phase II, DHA, Lahore
Ph: 042-35740334, 37176075