About DHA Junior School (T-Block)
DHA Junior School, T-Block was established in April 1998 as Defence Model School. Initially it started with six rooms, faculty of 14, 12 kanals and almost 100 students. Later on, in the summer of 1998, approximately 400 students were admitted, so 6 more rooms were constructed. In August 2004, its name was changed to Defence Public School, Junior Campus, T-Block. In 2005, a further expansion with 6 kanals commenced and resulted in construction of six more rooms by 2007. In 2009, Kindergarten section was shifted to the new campus. Presently, total covered area is 39,925 sq ft/25.09 kanals, total classrooms are 36 with a capacity of 1260 students.
It is my pleasure to pen down that DHA Education System traces its roots back to 1998. Taking pride in the legacy and establishing a culture of constant self-exploration, innovation and professional growth, we aim to offer an environment exclusively designed to meet the needs of the 21st century generation and the global community.
The curriculum at DHA Education System promises to provide the highest quality of educational content, ensuring holistic development of a child. We deliver collaborative and activity-based lessons to nurture the intellectual, mental, physical, emotional and social abilities in a child so that he or she can face the challenges of this ever-changing life.
We promote leadership skills in our young students through competitions at both face-to-face and online platforms. Several challenging events are organized throughout the academic session that not only boost students' confidence and create awareness but also promote a greater love and appreciation for education, and hence enable them to lead the world of tomorrow.
Believing in the unique and distinct intellect of every child, we exhibit a culture that promotes utilization of their maximum potential. We assist our students to achieve excellence, acquire global insight and research for new trends and styles to create a better future. We inspire our learners and stimulate their abilities by providing them with multivariate opportunities via highly educated and experienced team of teachers with hands on experience and perfection in their own domains. Our students always cherish their time spent at the lively and vibrant Junior School, T-Block.
We consider our partnership with parents, families and community a highly valuable asset and encourage you to learn more about all that we offer.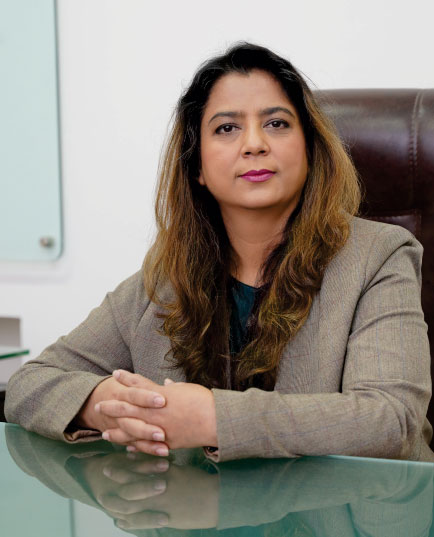 Ms. Fatima Noureen
Life at DHA Junior School, T-Block
DHA Junior School, T-Block provides an intellectually challenging environment for continuous growth and learning. Interactive mode of teaching, and adopting the latest models in the field of education, allows students to develop thinking skills, gain confidence and develop personalities with desired social and communication skills, values and ethics, thus helping them to become responsible citizens of the country.
We work closely with parents in order to develop students' abilities, aptitudes and personalities to the full. To stimulate the juvenile, school provides many opportunities to students in the form of co-curricular activities, throughout the year. These activities are aimed at developing problem solving, reasoning, critical thinking, communication and collaborative abilities of students.
Co-Curricular Activities
Admissions
Parents craving for admission of their child in DHA Junior School, T-Block, are required to register him / her for Admission Test by depositing Registration Fee and filling out the Admission Form in Admission Office. Then they are given an appointment slip mentioning the date and time for the interview and test. Registration does not in any way, endorse and pledge admission.  Admission will be confirmed on qualifying the admission test. Admission Test is not drafted from any particular textbook or syllabus. It is general in its nature, designed to assess the level of the child.
Criteria for Entry Test
Grade I – V: Age limit for admission in DHA Junior School, as on 31st March, is as under: -
Display of Merit List
Submission of Dues
Reserved Seats
Facilities at DHA Junior School, T-Block
Faculty
| | | |
| --- | --- | --- |
| Name | Designation | Qualification |
| Ms Fatima Noureen | Principal | MA English MBA Human Resource |
| Ms Sabiha Afridi | Senior Mistress | MA Philosophy BEd |
| Ms Amna Imran | Senior Mistress | MBA MA Economics |
| Ms Mariem Anwer Javed | Teacher | M Phil Computer Science |
| Ms Ferozah Shafique | Teacher | M Phil Urdu Literature |
| Ms Maryam Shahzad Khan | Teacher | M Phil English Language Teaching |
| Ms Zarnab Sarfraz | Teacher | M Phil & MS Applied Linguistics |
| Ms Tayyaba Khan | Teacher | M Phil Edn & Linguistic |
| Ms Shuhrat Arif | Teacher | MSc Psychology |
| Ms Asra Syed | Teacher | MSc Home Economics |
| Ms Asma Batool | Teacher | MSc Psychology |
| Ms Ambrin Ali | Teacher | MSc Microbiology |
| Ms Saleha Nouman | Teacher | MSc Computer Science |
| Ms Raheela Ambreen | Teacher | MSc Applied Psychology |
| Ms Zuhra Khanam | Teacher | MSc Mathematics |
| MS Kulsoom Ajmal | Teacher | MSc Zoology |
| Ms Qulb-e-Hira Hamayyun | Teacher | MSc Home Economics |
| Ms Nazia Noureen | Teacher | MBA Finance |
| Ms Hafsa Anam | Teacher | MA English BEd |
| Ms Robina Hussain | Teacher | MA English MEd |
| Ms Aisha Zahid | Teacher | MA English Language Teaching |
| Ms Shaheen Sadiq | Teacher | MA English |
| Ms Mehvish Zulfiqar | Teacher | MA English |
| Ms Maryam Saleem | Teacher | MA English |
| Ms Zarnab Ellahi | Teacher | MA English Language and Literature |
| Ms Sobia Farrukh | Teacher | MA English BEd |
| Ms Faizah Zareen | Teacher | MA English BEd |
| Ms Imrana Shams | Teacher | MA Education |
| Ms Iram Nazir | Teacher | MA Education |
| Ms Sundas Hina | Teacher | MA Education |
| Ms Asima Saeed | Teacher | MA Education |
| Ms Tamsila Waqar | Teacher | MA Education |
| Ms Fouzia Naseer | Teacher | MA Education |
| Ms Tamsila Munir | Teacher | MA Education BEd |
| Ms Bushra Waqar | Teacher | MA Political Science BEd |
| Ms Qudsia Yaqub | Teacher | MA Urdu |
| Ms Tahira Nasir | Teacher | MA Urdu |
| Ms Misbah Habib | Teacher | MA Urdu |
| Ms Tahira Irfan | Teacher | MA Islamiyat |
| Ms Riffat Iqbal | Teacher | MA Islamiyat BEd |
| Ms Shumaila Raffique | Teacher | MA Islamiyat |
| Ms Ayesha Nasreen | Teacher | MA Islamiyat |
| Ms  Sabrina Naz | Art Teacher | MA Fine Arts |
| Ms  Hafiza Sana Saddique | Art Teacher | MA Fine Arts |
| Ms Bakhtawar Munir | Teacher | BS (Hons) Statistics |
| Ms  Shumaila Sulehri | Teacher | BSc  BEd |
| Ms Bushra Hassan | Teacher | BS (Hons) Economics BEd |
| Ma Bushra Rukhsar | Teacher | BS (Hons) Chemistry BEd |
| Ms Rukhsar Hamid | Teacher | BS (Hons) Math |
| Ms Asifa Chaudhary | Teacher | BCom |
| Ms Syeda Azka Naeem | Teacher | BCom (Hons) |
| Ms Syeda Samra Rehan | Teacher | BA (Sociology) Urdu |
| Ms Syeda Maria Zafar | Teacher | BA |
| Ms Shazia Iqbal | Teacher | BA |
DHA Junior School T Block, 254-T, Phase-II DHA Lahore